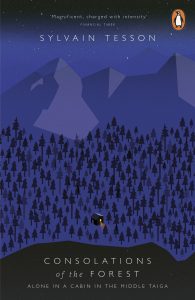 Photo: Consolations of the Forest: Alone in a Cabin in the Middle of the Taiga by Sylvian Tesson. Penguin UK, 2013.
Review by Alysha Matson
The Consolations of the Forest by Sylvain Tesson is a travelogue of the author's six-month experience staying in a cabin alone in Siberia. Through its honest, introspective reflection and beautiful diction, this book takes you along Tesson's journey and realization of nature's beauty and connectedness. It also happens to be the best book I have read this year.
When deciding on what book to read, I stumbled across Consolations of the Forest and was immediately curious. 'Who would want to stay in a cabin in the cold taiga?', I thought. 'Surely this man was there for a specific purpose – a job, perhaps'. After reading the first few pages and learning more about the author, I was pleasantly surprised. Sylvain Tesson is a French travel writer and journalist who has always been fascinated with new places. After receiving a degree in geopolitics, he began traveling and publishing works about his experiences. He has published almost a dozen books of this nature, and The Consolations of the Forest, which was published in 2011, is far from his first book of this sort. In its introduction, Tesson explains why he wanted to stay in a cabin alone in Siberia – it was on his bucket list. It was not out of necessity, nor the product of some strange lost bet. Tesson saw beauty in Siberia previously, and he wanted to return and experience more of it in a pure form. The author has a strong love for nature and what it provides, which shows through in every chapter.
The author writes daily entries that are divided by months. Strangely enough, each month seems to involve specific topics/themes which they are titled after. ("The Forest", "Time", "The Lake", etc.) Each of these chapters share experiences that contribute to Tesson's deepening understanding of what is around him, piecing together the book's general theme of appreciating nature and our connection to it as Tesson sees more and more beauty in the animals and land around him and reflects on how they all rely on and interact with himself and each other. Through this comes a message of environmentalism, to appreciate all things and beings and to treat them with care: "Why would anyone rather look at birds through a gunsight instead of binoculars?" (165). Even though he believes that we should try to protect nature, he does not imply that nature is somehow weak or controllable; rather, his account points to the opposite.
In his daily entry from April 9th within the chapter called "The Lake", Tesson describes how he is caught up in a wind storm while going on a small walk on the ice. Strong winds push against him, threatening to send him sliding to the other shore. After much struggling, he has to crawl on his knees for two miles to get back to his cabin. When describing the scene, Tessen finds beauty despite the danger: "The lake, perfectly polished, gleams, stripped of all snow" (115). He also highlights the power nature has in comparison to himself and describes the storm like another wild, being: "Crawling across a frozen lake, bowed down before a storm, is a lesson in humility" (115). Nature is not something that is weak and conquerable, according to Tesson. It is grand, complex, strong, and free. We just need to stop harming it, for we are foolish enough to think that we can conquer it – even though it can fling us across a frozen lake like a hockey puck.
As shown in the scene with the storm, Tesson successful paints nature as a beautiful and strong being, rather than just a thing in the background. He accomplishes this not only with his reflections but his diction as well. The writing in this book is beautiful, painting sparkling icy landscapes, rushing waters, and saturated sunsets. There are too many great quotes to share, so I shall settle on my favorite: "Snow has spread white cream over the blue slices; I'm walking an a cake for a boreal god. At times the sun illuminates the tip of icicles, lighting up stars in broad daylight" (61). When I first read these lines (and many others) I was taken aback. I found myself often having to stop and reread sections just so I could hear them again and keep the images in my head a little while longer because they were just so beautiful. Therefore, not only does Tesson humanize nature through his experiences and reflections like in the storm scene, but he glorifies it through lively and detailed descriptions of scenery. This makes this book a pleasure to read.
I recommend that everyone give this book a try. Through simple yet powerful stories and reflection told through stunning diction, Tesson makes you love and care for nature in the same way he learned to in the taiga. This infuses the reader with awe and determination to be better and to appreciate all that is around them. Since this book consists of only introspection, I can imagine some people may find it boring. Personally, I enjoy having access to Tesson's thoughts and reflections because it allows the reader to truly understand what his experience is like. But for those who prefer action and plot in their readings, this may not be the best book for them. Despite that, though, I would still encourage everyone to try and read it. I was enthralled with every entry and thought Tesson shared, and I have nothing negative to say about this work. Through reading this travelogue, one gets to go on a journey to the Siberian taiga, except you aren't alone; you have the thoughts and experiences of Tesson to keep you company. It's an illuminating experience that I hope others enjoy as much as I did.
Work Cited
Tesson, Sylvain. The Consolation of the Forest: Alone in a Cabin in the Siberian Taiga. Rizzoli Ex Libris, 2013.